Whoever claimed that the world was shrinking was truly a genius. It is undoubtedly incredible how easy it has become to connect with people from all over the world. Want to know worldwide opinions about a particular topic? An online community can come to your assistance. Distance truly seems to be irrelevant, thanks to the advancements in technology.
But wait! Why is it that so many brands are willing to splurge millions on building online communities? What is the secret behind the popularity of real-time chat communities like Discord? Why do people worldwide spend so much time on forum-based communities like Reddit and discourse?
Let's cut to the chase and give you a simple example. Imagine that you run into a dead-end in your favourite video game like Star Wars Jedi: Fallen Order. Try as you might, you simply can't move ahead. What should you then do? That's right. Post your query and reach out for assistance in a relevant online community. And before you know it, voila! Jesus take the wheel, someone guides you right through the mess. Sounds ideal, isn't it!
sit back and relax...
Building companies these days is all about building and managing an online community. After all, don't you want to engage and inspire the audience? How else would you witness a surge via the power of online community? It would really be silly not to use this excellent opportunity. You have the means to connect with the rest of the world, and you let it pass? It doesn't make you sound very smart, does it?
Building Community On Real-Time Chat Vs Forum Based Platform
What's the whole purpose of building an online community? The goal is to ensure that the members continue interacting with each other and have meaningful discussions while the key influencer supervises it. Find out why you need to focus on building an online community for your brand now!
Once you decide to venture into the dark forest, you will find yourself at a cross-road. Which route to prefer? Should you focus your energy on building a forum community, or is the real-time chat the right choice?
It's quite challenging to settle the two types of platforms because the two mediums are quite different and tend to have varying conversations. Even though this article is about Real-time chat vs. Forum based we cannot really compare the two. Different types of conversation mediums leads to, well, different types of conversation. It all depends on the type of community you're looking to launch. This articles aims to help you find out which is more relevant to you.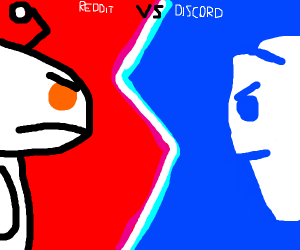 To help better understand the differences we will be comparing the 2 most popular online community platform for Real-time chat (Discord) and Forum Based (Reddit).
For starters, a forum is an ideal choice for longer-form thoughts. It is more permanent. Chat platforms like Discord are most suited for in the moments' conversation. People are likely to think more and present a more detailed version while expressing themselves on forums compared to live chats.
It is imperative that you understand the two platforms to gauge the difference between them. Discord allows the members to message each other wherein each community is called a server. The servers have text and voice channels, and you can share images, videos, and music, among other things.
On the other hand, Reddit is a platform that brings social news and network, web content, and a forum under a single room. The site's registered members can share content on the platform, which can then be voted up or down by others.
Discord has a user-friendly interface but with limited support. It can also put your privacy at risk. On the other hand, anonymity is the key feature of Reddit. After all, you don't want strangers to know that you have been playing COD for the past 48 hours.
Let's be honest. Following conversations on real-time chat platforms can be a nuisance. There is a flood of text messages, and there is always a chance that you miss out on some crucial response that could have been the real deal.
This isn't all. Although you can connect with the world via live chat, the different time zones can be a challenge. Who will enjoy fragmented conversations? Can you really follow a discussion when a significant chunk of it missing? Doesn't sound fun, does it?
Searching for something asked before can be tedious in live chat communities. Poor moderators have to continue repeating themselves. Not really the ideal job.
Let's say you ran into a dead-end while playing Call of Duty: Modern Warfare and you turn to your online buddies for help. But wait, the one who excels in the game isn't online yet and by the time he comes, the discussion is lost among the flurry of messages. Kind of defeats the purpose, doesn't it?
Let's move onto forum-based communities. Consider us biased, but this one surely has a lot to offer.
For one thing, such communities are more long-lasting. They build trust and make a brand stronger among the customers. Some questions aren't repeated as often, and the discussions can be moderated with ease.
When you ask a question about how to move ahead in the Mortal Kombat 11, the other members will vote for the most relevant responses. There's no way you can miss the answer as it will gain most attention and will feature right on the top.But we will surely be pulling the thread too hard if we claim that forum-based communities are without problem. That's definitely not the case.
Keep in mind; you will likely have to wait for long to get a response to your query in this option. If quick solutions are what you need, you are at the wrong place. People take their own sweet time to respond on such platforms. Moreover, the constant moderation can be a downer. Freedom of speech, anyone?
Real-Time Chat Community Vs. Forum Community: The Final Word
You are confused now, aren't you? Which type of online community should you prefer, and more importantly, how can you build it from scratch. Let's give you a few pointers that will make it easy to arrive at a conclusion.
If brainstorming and quick responses are what you need, a real-time live chat platform can work for you. But remember, some members having something valuable to add to the conversation might be excluded for a number of reasons.
Being a part of a number of discords can be confusing and overwhelming, and you will likely find it difficult to participate everywhere actively. This might be a bigger loss than you realise.
To put things simply, in this battle of Real-time chat community vs. Forum community, the balance is tilted in favor of the latter. Yes, forum-based communities like Reddit are a better choice if you are serious about building an extensive online community.
But remember, it isn't going to be easy. You have to attract people and get them to participate in the discussions. It might sound simple, but trust us, it's not! You will be surprised how often people fail in this. But there is no reason to panic. Sometimes, a few tips and tricks are all you need to unravel the secrets and get your hands on the keys that open the doors of success for you.
Again, this is not a hit piece on Discord. Discord is an awesome tool and can be great for certain types of communities. Basically, if you have a relatively small group of people who are active most parts of the day, able to chat, and in the same time zone, Discord could be perfect for you. If you have an international audience that can only check in online occasionally and your community is constantly searching for relevant conversations to show up in search results and be easily retrievable, Discord is probably not the right choice.